We already mentioned (probably a few times by now;) that JavaScript is without equal in terms of popularity. In fact, it is unique in many ways. A dynamically typed, interpreted, and predominantly client-side scripting language, it powers the web, unlike any other technology.
Bearing in mind JS's singularity, we will nevertheless endeavor to draw a comparison between JavaScript and dominant programming languages, focusing on critical characteristics, such as speed and cost of development, versatility, and performance.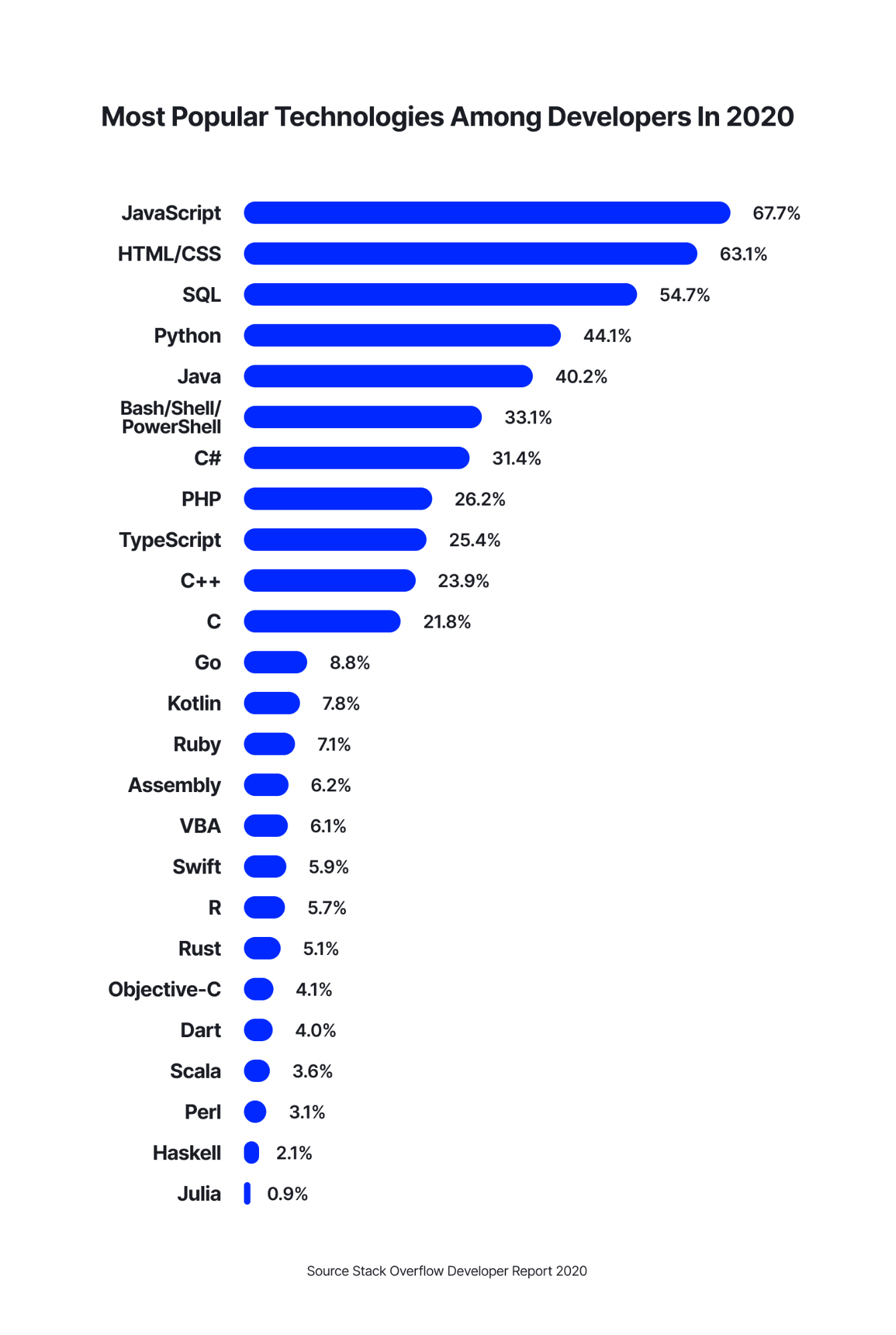 When it comes to popularity, JavaScript is beyond comparison

JavaScript vs. Python
JavaScript and Python share quite a few similarities. As high-level, interpreter, and dynamically-typed languages, both enable fast iterations and allow developers to add and update application features quickly. The two languages also enjoy a massive following due to robust performance, extensive tooling and library support, and simplicity. When it comes to applications, Python is a general-purpose coding language heavily used in deep learning, ML, image processing, and data analytics projects. It can also build a web app backend.
Speed of development: draw
Cost of development: draw
Performance: draw
Versatility: draw
Developers' pool: draw
Popularity among startups and tech companies: draw
Who wins: The two are neck and neck in all categories.
JavaScript vs. PHP
Even though PHP is past its prime, developers still rely on it for the backend development of their web apps. The language is suitable for other applications. Nevertheless, web development takes precedence. Quite often, PHP and JS work in tandem, where the former on the server supports the latter on the client side.
PHP interpreters usually outdo those for JavaScript in performance, mainly on account of their maturity. The total cost of project delivery in PHP also tends to be lower than in JS's case. The PHP developer count exceeds 5.5 million specialists. Still, that's half of JS' community size; besides, the group of PHP experts is likely to be slowly dwindling.
Speed of development: JavaScript
Cost of development: PHP
Performance: PHP
Versatility: JavaScript
Developers' pool: JavaScript
Popularity among startups and tech companies: JavaScript
Who wins: JavaScript wins when it comes to skills accessibility, development speed, and variety of use cases it supports. However, PHP might be a more suitable choice for price-sensitive projects.
JavaScript vs. Ruby
A general-purpose scripting language, Ruby owes popularity mainly to the Ruby on Rails framework for building websites and web apps. Even so, it is also extensively used for the creation of sophisticated programming toolings, such as platforms for mobile app development and package management applications. Thus, Ruby beats JS in terms of versatility.
The main benefit of the language is that it's geared towards 'programmer happiness,' focusing on simplicity, productivity, and time efficiency. This is possible thanks to the abundance of tools that facilitate and accelerate the coding experience. Ruby, as such, doesn't score very high when it comes to app performance. However, it gains a massive boost with a lightweight interpreter, mruby, frequently leveraged in high-performance applications.
Speed of development: Ruby
Cost of development: draw
Performance: draw
Versatility: Ruby
Developers' pool: JavaScript
Popularity among startups and tech companies: draw
Who wins: Ruby, when properly implemented, has a certain speed and versatility advantage over JS. Still, it has a lot of catching up to do when it comes to community size.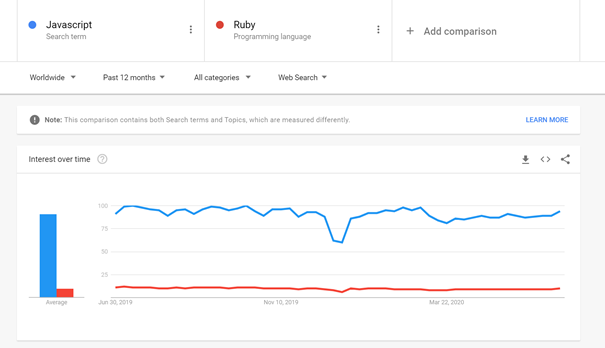 JavaScript vs. Dart
Developed by Google, Dart is an object-oriented, class-based programming language for delivering apps on multiple platforms. Even though it's still considered niche (only 4% of developers use it), Dart was the fastest-growing language on GitHub between 2018 and 2019. The surge in Dart's popularity is attributed to the emergence of Flutter, Google's UI toolkit for cross-platform app development. Besides the Flutter framework, the usage of Dart remains insignificant.
Speed of development: draw
Cost of development: Dart
Performance: draw
Versatility: JavaScript
Developers' pool: JavaScript
Popularity among startups and tech companies: JavaScript
Who wins: The two languages draw level in terms of development speed and app performance. Dart tends to be more cost-efficient. At the same time, JavaScript beats it in the scope of applications and business and community support.
JavaScript vs. C++
Created in 1985, C++ is one of the first programming languages with a few compelling advantages over JavaScript, including versatility, reliability, and speed. Developers use it to create GUI-based desktop apps, operating systems, database software, enterprise applications, browsers, compilers, and libraries, among other applications. C++ is also extensively used for developing computer games.
Despite these benefits, the language mostly appears in projects that require strong performance and ultra-low latency. That is because of the steep learning curve and complexity, which prompt many beginners to give up on their efforts to master the language. Finding a reliable and experienced C++ developer takes much more time than hiring a skilled JS expert (or a Python engineer, for scientific computing projects). Mainly for that reason, companies go with C++ only if there's no alternative.
Speed of development: JavaScript
Cost of development: draw
Performance: C++
Versatility: C++
Developers' pool: JavaScript
Popularity among startups and tech companies: JavaScript
Who wins: C++ scores higher than JS on performance and range of applications. Nevertheless, it trails behind with development speed, and cannot dream of the extensive support that JavaScript has both on the developers' and business' side.
JavaScript vs. C#
Microsoft created C# in opposition to Java as a primary technology for enterprise-grade software. Compiled into an intermediate form (IL) to be run by the just-in-time compiler, it offers much higher performance than the interpreted JavaScript language. C# has varied applications, from Windows apps to third-party web apps.
The availability of Blazor, a client-side UI framework, and WebAssembly standard makes C# one of the very few technologies apart from JS for the creation of web frontends. It's estimated that over 30% of developers know C#. However, they mostly come from an enterprise background. Using agile development practices with C# is doable, though uncommon.
Speed of development: JavaScript
Cost of development: C#
Performance: C#
Versatility: draw
Developers' pool: JavaScript
Popularity among startups and tech companies: JavaScript
Who wins: C# beats JS on performance and cost-efficiency. However, it cannot keep up with JavaScript's immense following and wide-spread adoption among startups and tech organizations.
JavaScript vs. Rust vs. Go
While Rust and Golang emerged from completely different backgrounds, they share an array of similarities. Rust is a multi-paradigm programming language originally developed by Mozilla as an advanced extension of machine learning languages. Currently, it is predominantly used to build in-house and OS software and infrastructure/DevOps tools. It also retains broad application in gaming development, as well as AI, ML, and VR projects. Rust may be used in the frontend, as well as the backend of web apps.
Golang came into being in 2007, created by Google, to streamline building software infrastructure. Today, developers use Golang for building large corporate systems and robust, scalable network servers. The application of Go in web development is also increasing.
Both Rust and Go are statically-typed languages notable for their remarkable speed, efficiency, and concurrency. At the same time, they aren't all that easy to master, which impacts the developers' pool size and availability. Less than 9% of developers use Go, while slightly more than 5% know Rust. Additionally, as relatively new technologies when compared to JavaScript, Rust and Go still need time to mature to offer maximum potential.
Speed of development: draw
Cost of development: Rust & Go
Performance: Rust & Go
Versatility: Rust & Go
Developers' pool: JavaScript
Popularity among startups and tech companies: JavaScript
Who wins: High performance, economical Rust and Go languages triumph over JavaScript in several categories, but finding reliable developers for these technologies may be troublesome.
JavaScript vs. Java
Java was designed as a multi-platform technology, ready to support not only desktop software but also mobile apps (remember Java Applets?). Currently, the language's scope has diminished, and developers use it mainly for web backend and Windows apps.
As a compiled language, Java tends to be faster than JS. It also wins over JavaScript in-app performance, security, and robustness. Nevertheless, startups and fast-paced organizations rarely use Java on account of its low and cumbersome development speed. These downsides of Java also contribute to the fact that every second developer loathes working with the language.
Speed of development: JavaScript
Cost of development: Java
Performance: Java
Versatility: draw
Developers' pool: JavaScript
Popularity among startups and tech companies: JavaScript
Who wins: JavaScript, by a narrow win. It outperforms Java in development speed, community size, and popularity. Java generally offers more robust performance and greater cost-efficiency, while the two languages are equally versatile.
JavaScript vs. Kotlin
Appointed the technology of choice for Android development, Kotlin is a modern statically typed programming language created by Google as a remedy for Java's shortages. Therefore, it takes what's best after Java, while reducing the size of the boilerplate code.
The simplicity, efficiency, and flexibility of Kotlin make it developers' favorite choice for mobile app development. However, JavaScript still offers comparable speed and cost of development, yet it's far more commonly used. It's also worth remembering that while Kotlin supports web backend and frontend development, over 60% of software created in the language are Android apps.
Speed of development: draw
Cost of development: draw
Performance: Kotlin
Versatility: JavaScript
Developers' pool: draw
Popularity among startups and tech companies: JavaScript
Who wins: Kotlin is picking up steam, outshining JS in performance. Even so, this proves too little to take over. As a more versatile language, JavaScript is favored by growth-minded companies.